New Faze Interns Organize College Tour For Roberts Family Development Center Youngsters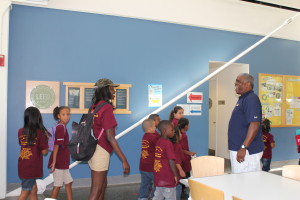 Sacramento, CA – New Faze Development, Inc., the Sacramento home builder known for its community partnerships and neighborhood involvement, has announced the successful completion of an exciting project spearheaded by three of the company's summer interns. In their role as "Next Faze Leaders," Martin Harris, Denzel Butler and Zimeng ("Gloria") Liao arranged for 250 students in grades K through 8th from the Roberts Family Development Center, located in the Del Paso Heights neighborhood in Sacramento, CA, to visit UC Merced for the day in mid-July. The children, who in many cases are the first in their families to think about attending college, had a unique opportunity to see a UC campus and experience a mini-orientation to college life.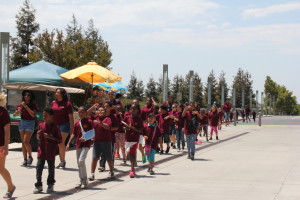 "We celebrate and support the efforts of these committed young interns, who took the lead on this remarkable project," says Mark T. Harris, J.D., President, New Faze Development, Inc., who also serves as the Director of Pre-Law Studies at UC Merced. "The passion of these Next Faze Leaders and their dedication to creating hope and possibilities for the children upholds our commitment to improve our communities by enhancing the future of our youth."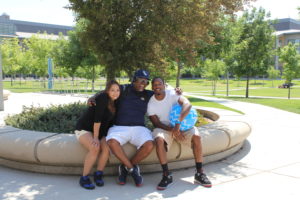 The visiting youngsters enjoyed a full day of campus and dormitory tours, social interaction with college students through activities and games, and sports demonstrations and lectures by student athletes. UC Merced Admissions Office staff gave presentations and talked to the children about the importance of their campus visit and the benefits of attending college when they are older.
The three interns who organized the campus trip are well-accomplished self-starters whose philosophies of life reflect the long-standing New Faze commitment to serving economically diverse areas and promoting community participation. Martin Harris, who played basketball for UC Merced and was an All-Conference selection, has worked with youth groups before, sharing the knowledge and skills he developed through sports with kids ages 9-17 at the Shanghai University of Sports, Nike Basketball Camp in Shanghai, China. "I believe my New Faze internship will truly complement my career goals," says Harris. "As a Next Faze Leader, I'm gaining valuable insight into how to improve public-private partnerships, which is one of my main career objectives."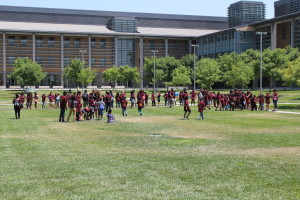 Denzel Butler will graduate from UC Merced in 2015 with a Bachelor of Science in Management. He will spend the fall of 2014 attending UC Abroad in Hong Kong. Butler received both the National Federation of Independent Business Young Entrepreneur Scholarship and the Bank of America Scholarship. "Under the Next Faze Leaders program, I have the opportunity to use my teamwork, communication and leadership skills," says Butler. "This campus tour project enabled me to help inspire young people to get an education so that they realize a higher quality of life as adults."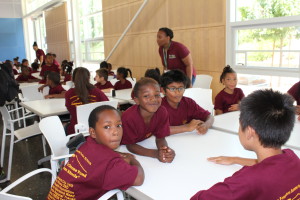 Gloria Liao will receive a Bachelor of Science degree from UC Merced in 2016 with a double-major in economics and management. She has been active in college public relations through her sorority, Kappa Kappa Gamma, and she has used her savvy in economics to tutor fellow students and prepare them for exams. Liao has also served in the Finance Department of the college's Business Society, preparing budgets and allocating funds. "I am in search of both personal and professional development," says Liao, "and I am gaining valuable life and work experience by serving as a Next Faze Leader."
New Faze Development is headquartered at 1825 Del Paso Boulevard in Sacramento. The company's diverse group of inspired, hardworking employees are dedicated to projects ranging from park clean-up efforts to local charity events to community outreach programs, and, of course, homebuilding operations.
For more information on New Faze Development or its internship program, contact Ms. Lilianna Vasquez by phone at (916) 929-6402, ext. 107, or visit their website at newfaze.com.