America's Farm-to-Fork Capital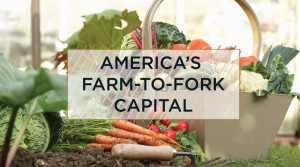 With the freshest, safest, and most nutritious fruits and vegetables, Sacramento has quickly become known as America's farm-to-fork capital. Farmers markets have sprouted in almost every neighborhood in the Sacramento area due to the high demand for fresh, locally grown produce. These markets showcase the region's bounty with over 120 diverse vendors (depending on the market) which provides a shopping experience that offers something for everyone. On top of the fresh produce, some markets even provide arts and crafts activities that are great for the family.
The Midtown Farmers Market has become one of our favorites, especially during the Second Saturday festivities. In addition to all of the local produce, this market features an edible tasting garden, various crafters, chef demos, and a thirst quenching Kombucha Kulture Mobile Draft Bar with a fermented tea beverage on tap. Adjacent to the market is a new pop-up dog park that makes it even easier to shop with the whole family. Located at 20th and J St. and held every Saturday, don't miss out on this fabulous market.
Next time you need groceries, think local and support a fellow Sacramento farmer.