New Neighbors, New Friends get together at Renaissance Park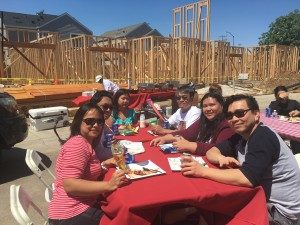 It's not often we really take a few minutes to meet and chat with our neighbors. More likely, it's a wave across the street as you bustle in from work or "how's it going?" as you walk past on your way to the park. New Faze believes in the enjoyment and power of knowing your neighbors which is why they hosted a special Neighborhood BBQ party for the new home owners at Renaissance Park.
"We wanted to graciously thank the home owners for their trust and commitment with one of their largest investments to New Faze," commented Charlie Tiwana, Vice President Strategic Investments, New Faze Development. "It also reinforced our company philosophy to not only build homes but communities. It was so exciting to hear everyone's story of what brought them to Renaissance Park and how much they love their new homes."
The day was fun-filled with a delicious BBQ lunch buffet provided by Ray's BBQ, music by Tin Can Productions and games for the kids. Located in the cul-de-sac at Ben Ali Drive, neighbors commented on the great block party atmosphere and are looking forward to the next time.
All in all the day was a huge success and New Faze is proud to see the Renaissance Park community grow in years to come.