Renaissance Park is Sold Out…More to Come…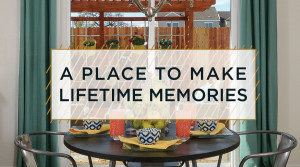 There is no doubt that you have heard about New Faze Development's newest housing community, Renaissance Park. This popular community is high in quality and high in demand, thanks to its convenient location in North Sacramento and its modern style amenities. As a testament to their excellent features, New Faze Development is proud to announce that Renaissance Park has sold out!
Don't worry, though. Although Renaissance Park has completely sold all of its beautiful and convenient homes, it doesn't mean you are out of luck! New Faze Development has 20 more homes for sale in the Evergreen neighborhood right down the street, and they are taking reservations now!
"With the amount of demand we received for the Renaissance Parks homes, there was no question as to whether we should continue building these beautiful homes,"stated Cecil O. Williams I, Community Sales Director for New Faze Development. "We work hard to create affordable homes that will provide families with a place to make lifetime memories, and we want to continue doing so."
Announcing Renaissance at Evergreen
Renaissance at Evergreen is conveniently located in North Sacramento with easy access to downtown and only a mile away from the exciting Arden Fair Mall. The Evergreen neighborhood is merely minutes from great restaurants, fun shopping, and a variety of entertainment. Winner's Circle Park is also within walking distance and is the perfect place to enjoy the natural surroundings or go for a relaxing walk.
The community will feature the three Renaissance Park floor plans: The Venice, The Florence, and The Portofino. The Venice is 1,318 square feet and has three bedrooms and two and a half bathrooms. It also has a two-car garage. The Florence is 1,408 square feet and features a two-car tandem garage, three bedrooms, and two and a half bathrooms. Finally, The Portofino is the largest of the designs standing at 1,628 square feet with four bedrooms, two and a half bathrooms, an optional loft, and a two-car tandem garage
While these three floor plans may be different in layout, they are all the same in terms of quality and luxury. Each design features high-end amenities such as granite countertops, stainless steel appliances, and top quality security systems. They also feature spacious walk-in closets and laundry areas, making them stand out from other similar neighborhoods in the area.
Each of the homes has modern conveniences such as being pre-wired for telephone and data, dual-zone heating and air conditioning, dual pane windows that include a lifetime warranty, not to mention energy-efficient gas, water heater, lighting, and plumbing. With all that these homes have to offer, you will definitely want to act fast!
If you are interested in finding out more information about these stunning homes, feel free to visit the sales office which is located at 2473 Erickson Street, Sacramento, CA 95815. The office is open daily from 11:00am to 5:00pm (closed on Wednesdays). You can also tour all three model homes at this location.
For more information, or to schedule a tour, please contact (916) 468-9727.