Park Place East Final Close-out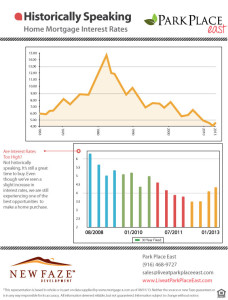 New Faze Development, Inc.'s new home community, Park Place East, is closing out the final three homes and lately homebuyers have placed some focus on rising interest rates. We took a look at the historical data of home mortgage interest rates and found some very interesting information.
So although rates have moved up slightly in the past few months, we are still experiencing some of the lowest rates in decades. Additionally, through their partnership with Summit Funding, New Faze is offering Builder Rate Lock Program that protects buyers from rising interest rates while their home is being built. A loan specialist is available to explain the specific qualifications, loan regulations and requirements for this program. If you or someone you know is interested in purchasing a new home, please contact us for more information on our local housing market and Park Place East.