Next Faze Leaders Hoopin In The Park
"Hoopin' in the Park," took place on September the 27th at Hagginwood Park on 3271 Marysville Blvd.
The "Next Faze" Leaders, who are participants in a leadership development program sponsored by Sacramento home builder New Faze Development, Inc., coordinated a successful, friendly, yet competitive, fun filled, 3 on 3 basketball tournament called "Hoopin' in the Park." Consistent with New Faze's long standing commitment to serving economically diverse areas, promoting community participation, sustainable growth and a deep-sense of civic pride, this event was a great event for families and celebrate local businesses.
Camaraderie, and community togetherness were the themes for this one day basketball festival celebrating good sportsmanship. Completely "designed," managed and coordinated by the "Next Faze" Leaders, this event pulled out all the stops. Guest referees, the Royal Court Dancers (Sacramento Kings Dance Team), food, and friendly competition made for a wonderful "family friendly" environment.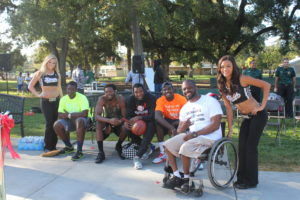 "As interns we are taught that the New Faze Development Company not only builds houses but builds communities," states Martin Harris, one of the Next Faze Leaders and the Chief-of-Staff at New Faze Development. This is indeed New Faze mission; not only a commitment to building high quality, well-crafted homes, but also to strengthening the entire fabric of the local communities in which it builds these homes. It's a truly comprehensive cooperative approach in which New Faze has taken the lead in bringing awareness, progress and support to neighborhoods by working with local officials, the private sector and various non-profits. Joining the Next Faze Leaders, in sponsoring "Hoopin In The Park" are the following: The City of Sacramento; Sacramento City Council Member Allen W. Warren; New Faze Development Company; non-profit Tomorrow's Today, and the residents of Del Paso Heights and North Sacramento among countless others.