Mortgage Expert Advice
Monty Maxwell with Guild Mortgage provides some expert advice in this week's Guild Mortgage Rate Insider. Check out the scope this week…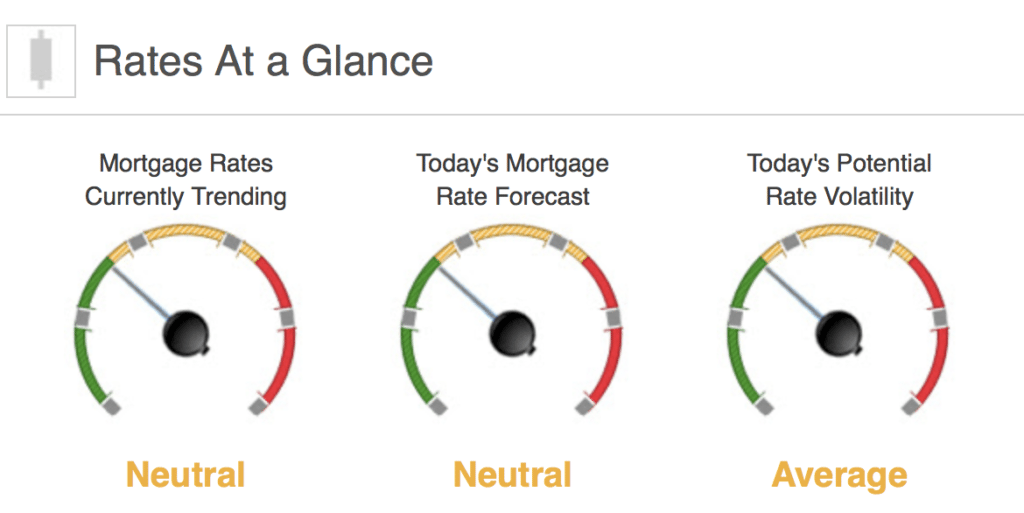 How Rates Move:
Conventional and Government (FHA and VA) lenders set their rates based on the pricing of Mortgage-Backed Securities (MBS) which are traded in real time, all day in the bond market. This means rates or loan fees (mortgage pricing) moves throughout the day, being affected by a variety of economic or political events. When MBS pricing goes up, mortgage rates or pricing generally goes down. When they fall, mortgage pricing goes up. Tracking these securities real-time is critical. For more information about the rate market, contact me directly. I'm among few mortgage professionals who have access to live trading screens during market hours.
Rates Currently Trending: Neutral
Mortgage rates are moving sideways to slightly lower so far today. The MBS market improved by +1 bps yesterday. This was not enough to improve mortgage rates or fees. The rates experienced low volatility yesterday.
Today's Rate Forecast: Neutral
Jobs: Initial Weekly Jobless Claims were lower than expected (215K vs. est. of 230K) and the more closely watched 4-week moving average dropped to 224,500 which is crazy-low.
Inflation: The Fed's key measure of inflation inched up as the Headline PCE YOY reading hit 1.8% vs. est. of 1.7%. The Core YOY number inched up from 1.5% to 1.6% which was expected. Both readings are still below their target rate of 2.00% but starting to trend upward. Personal Income saw another monthly gain, this time 0.4% which was expected. Personal Spending gained 0.2% vs. est of 0.2%.
Manufacturing: The bell-weather Chicago PMI was much lower than expected (57.4 vs est of 62.0) and is one of the lowest readings in the last 12 months. However, ANY reading above 50.0 is expansionary and reading in the upper 50's is very, very strong.
Consumer Sentiment: The University of Michigan's Survey was revised from the mid-month prelim reading of 102.00 to the final monthly reading of 101.4 which is the highest level since 2004.
Today's Potential Rate Volatility: Average
Mortgage rates continue to inch lower with relatively low volatility. Mortgage rates are likely to move slightly lower with relatively low volatility today heading into the long weekend.
Bottom Line:
If you are looking for the risks and benefits of locking your interest rate in today or floating your loan rate, contact your mortgage professional to discuss it with them.