First Release Under Construction at Renaissance Park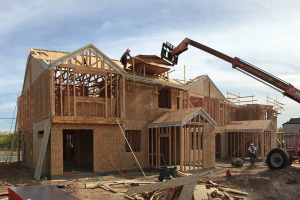 Sacramento, CA –– "With the construction of Renaissance Park moving along even faster than expected, an improving economy, and people wanting to live closer to where the action is, the demand for our new homes has increased exponentially," says Mark T. Harris, President of New Faze. Sacramento itself is entering into a state of higher demand thanks to steady increases in commercial developments, new job opportunities, and the ever growing healthcare, education, and governmental job markets. The environment for home buying has never been as attractive as it is right now.
Competitive first release pricing, modern amenities, and a prime location, makes Renaissance Park a great place for first time home buyers, families, and career oriented individuals to establish a foundation. "People like the fact that they can buy a home for about the same monthly cost as they would pay to rent, and the ability to walk, bike or take the light rail to work from home is even more attractive," continued Harris.
First release pricing combined with the depth of popular included amenities makes Renaissance Park a popular new community. Garage parking, security systems expandable to smart home technology, square footage that ranges from 1,318 to 1,628, up to date interior designs, and stainless steel appliances are just a few of the reasons these homes are garnering such interest. "We are building a place where people can be comfortable and enjoy an excellent lifestyle. Home shoppers like the large walk-in closets, potential for in-home technology, and the convenience of having laundry rooms. They also love the proximity to shopping at Arden Fair, enjoying local restaurants, or catching a movie without driving a far distance or without having to drive at all," says Mark T. Harris.
Visit Renaissance Park and tour the homes under construction. The sales center is located at 2455 Erickson Street, Sacramento, CA 95815 and open daily from 11:00 a.m. to 5:00 p.m. Closed Wednesday and Thursday. For sales information and inquiries, please call (916) 468-9727. You can also visit www.newfaze.com for more information.