Baseball Camp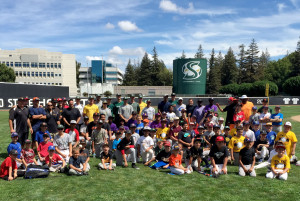 New Faze Development is proud to announce that the 9th annual Youth Baseball Camp was a great success. Our Annual Youth Baseball camp had the honor of serving hundreds of aspiring youth baseball players and it provided the youth with the opportunity to practice with many former major league baseball players, coaches, and scouts. New Faze wants to thank the organizers of this event Quinn Gregory, Erika Huerta, Charlie Tiwana and all of the volunteers. This event wouldn't have been possible without the support of Sacramento State University and the Sac State Baseball Team. Special thanks to all of the baseball players, coaches, and scouts for their help and support. The invited coaches were:
Ricky Jordan | Greg Vaughn | Fernando Viña | Lloyd Moseby | RJ Reynolds | Allen Wayne Warren | LaVel Freeman | Pat Gomez | Matt Walbeck | John Smith | Quinn Gregory- Camp Coordinator/Coach | Joe Potulny | Tony Bloomfield | Howard Bowens | Eric Woods | Keith Thrower | Matt Jarvin | Kevin Brown | Gary Forrester | Brad Gunter | Phil Cantelme | Tim Fitzgerald | Ryan Royster | Danny Royster | Will Baer | Jason Adge | Raphael Rivera | Dino Johnson
Special announcement: Next year we will be celebrating our 10-year anniversary for the annual youth baseball camp hosted by New Faze Development.