New Faze Nomination for the Community Pillar of the Year Award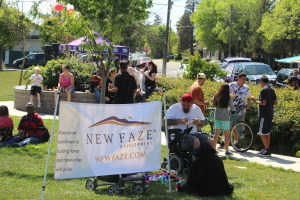 New Faze Development is extremely pleased to announce that we've been nominated for The Black Enterprise Small Business Awards in the Community Pillar of the Year category. The Community Pillar of the Year Award is given to the entrepreneur who has a product or service that enriches lives and has shown a commitment to building both a brand and the community. It is a thrill and an honor to receive this recognition from Black Enterprise.
The Black Enterprise Small Business Awards are given out annually and seek to recognize African American entrepreneurs who "embody the Black Enterprise entrepreneurial Spirit." The awards recognize achievement in bringing forth new products, redefining sales strategies and finding new and profitable markets.
Why did Black Enterprise recognize us? They are looking for companies that are making a difference. Since 1990, we have been firmly committed to the people of the Sacramento region. While we started with a modest initial investment, we've been able to grow New Faze considerably and are now a respected regional developer with a substantial real estate portfolio. It makes us feel great to know that our hard work and effort has been noticed.
Today, we continue our work and focus on urban infill neighborhoods which are growing increasingly in popularity.
We believe in creating responsible communities that take into account a neighborhood's long-term wellbeing. We want everyone to own a home and to live in a safe and welcoming neighborhood.
Building affordable homes that people will love is a key part of what we do, and it is our sincere goal to have the community involved at every step. Our approach is a different approach and not only does it work, but now it is also being recognized at a high level.
Thank you to everyone at Black Enterprise for the nomination. We feel that The Black Enterprise Small Business Awards are playing a unique and important role in the development and support of African American businesses in this country. Their support of the entrepreneurial spirit and those that are truly looking to make a difference is appreciated.